Vehicle and Equipment Maintenance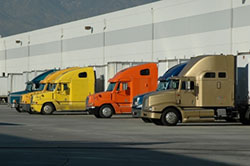 Keeping costs low and availability high is the mantra for today's fleet managers. Not a simple task without a system that automates the preventive maintenance plans, schedules the necessary inspections and ensures that all of the critical work gets done.
Every vehicle and piece of equipment must receive the right kind of service at the right time. And, you need to track all of the associated costs, both in parts, labor and scheduled downtime, to accurately determine the cost effectiveness of your fleet.
Accellos One Maintain helps you more effectively manage your vehicle and equipment maintenance. It has the flexibility to handle all of your preventive maintenance plans and scheduling. Keeps track of maintenance history on all of your assets. Handles the scheduling and reporting of all of your inspections. And, can manage work orders, purchasing, parts inventory and automatic costing of parts and labor if you so desire.
Let Accellos One Maintain give you the tools to reduce costs, improve productivity and keep your vehicles and equipment in service so that they're generating solid returns for your business.
REDUCE DOWNTIME
Move from corrective maintenance to preventive maintenance
MAXIMIZE RESOURCES
Reduce the number of vehicles and equipment necessary by improving in-service cycles
IMPROVE ASSET LIFE
Ensure that your equipment operates at peak efficiency by adhering to proper maintenance schedules
LOWER REPLACEMENT COSTS
Increase warranty recovery through more effective warranty tracking
MINIMIZE PAPERWORK
Let the system maintain all of the records necessary for effective compliance
VEHICLE AND EQUIPMENT PROFILES
Maintain comprehensive profile information about anything that needs routine maintenance – heavy equipment, tractors, trailers, vehicles, forklifts, yard trucks, air compressors, etc.
PREVENTIVE MAINTENANCE
Monitor and schedule maintenance by odometer, hours, or days
TIRE TRACKING
Complete tire management system handles inventory, purchasing, recapping, patching, stocking, rotating and discarding tires
WORK ORDERS
Creates work orders for routine maintenance, eliminating any manual entry. Advanced work order functionality lets you create and add miscellaneous labor and diagnostic charges, and apply disposal fees
WARRANTY TRACKING
Tracks warranty information and alerts if a part under warranty is being replaced meilleur steroide anabolisant steroide anabolisant musculation steroide kaufen deutschland