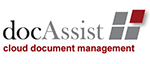 docAssist is a leading provider of enterprise content management (ECM) fully integrated content, document and workflow management tools.
Our business document management system provides robust functionality that is easy to use and configure to meet any business process need. This ECM solution is also designed to be an integrated document management system that effortlessly integrates data from any of your existing business systems.

Enterprise Content management in the cloud: No hardware, software, consulting or expensive maintenance fees are required & support is included in our service. Cloud ECM addresses disaster recovery and business continuity measures as well as takes the guesswork out of preparing for an audit.
We believe that a SaaS provider should be able to demonstrate the following things:
ROI: Reduce operating expenses & increase organizational efficiency. Measurable & rapid ROI is what makes the cloud where your business should be.
Integration: Extend the ROI of your existing ERP, CRM, HRMS or custom business applications. The next generation of ECM is here!
Security in the Cloud: Multiple layers of security ensures your business information is secure, redundant and readily available at all times.
A Platform With Stability: docAssist is an ECM pioneer with 9 years in production & a global footprint. Thousands of users in 25 countries rely on us.