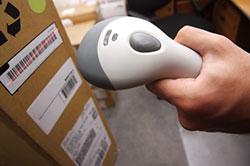 Accellos One Warehouse combines radio frequency and barcode technology with a robust, three-tiered, Internet-based architecture, delivering a powerful, scalable and flexible real-time warehouse management system that helps you boost productivity, reduce costs, shorten order fulfillment times and increase customer satisfaction.
Accellos One Warehouse integrates seamlessly with many popular accounting/order-entry packages and shipping systems to provide the warehousing link in a total supply chain solution. Accellos offers a feature-rich solution to automate, streamline and verify all your in-warehouse processes. From the receiving dock to the shipping dock, Accellos tracks every movement of stock into, out of, and within the warehouse.
Look for efficiencies and economy throughout your processes. Expanding your operation to multiple warehouses? Gain full multi-warehouse visibility with Accellos. Establish event monitors on key processes that enable Accellos One Warehouse to alert you to any issues that may need your attention. Integrate with the leading suppliers of warehouse automation equipment, such as Pick Lights, Conveyors, Vertical and Horizontal Carousels. Leverage your network of trading partners with EDI integration and an available customer portal. All managed by a web centric wave planning console.
WMS Modules and Editions
Accellos One Warehouse consists of three editions designed to meet the demanding needs of customers from small to large.  The Collect Edition is aimed at the company looking to extend their paper processes to the wireless world.  The Manage Edition is built for the organization that wants to start small, but has plans to expand their warehouse processes over time.  And, the Fulfill Edition is designed for the more sophisticated user that needs more control, automation and flexibility in their warehouse. Learn more about the WMS Modules.