Real-Time Communications with GPS-enabled Mobile Communications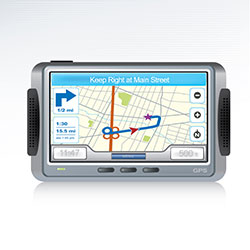 Traditionally, onboard truck tracking systems (AVL's) simply tell you where your vehicles are, Accellos' fleet tracking solution doesn't stop there. Accellos One Track pinpoints your truck locations and then processes this information to report accurate departures, arrivals, missed appointments, planned and unplanned stops, out of route miles, mileage by state, detention time alerts, and rolling ETA's for your entire fleet, allowing your trucking company, brokerage, or private fleet to maintain visibility and control.
Your truck route and scheduled trip itineraries are electronically sent to your driver's mobile device, where they are stored, viewed and managed. This allows you to virtually reduce and even eliminate the need for phone calls between driver and dispatcher saving hours of unnecessary phone time.
Via our mobile-phone based technology, Qualcomm or PeopleNet interface, drivers will respond to your dispatcher through a simple, user-friendly interface built right into their mobile device, entering actual arrival and departure times, quantities of goods, BOL and much more.
Accellos One Track enables trucking companies, freight brokers, 3PL's, distributors, retailers and manufacturers to improve customer service, reduce overall costs and gain better control of the delivery process.
INCREASED PROFITABILITY
Tightly track and manage your fleet to eliminate costly errors and oversights
REDUCED COSTS
Recognize and quickly resolve potential problems before they occur
TIME SAVINGS
Send and receive important trip details and instructions with the click of a button
EXCEED EXPECTATIONS
Meet dock schedules and deadlines every time
INCREASED EFFICIENCY
Real time two-way data transmission between dispatcher and driver
IMPROVED ACCESS
Get visibility from any browser, anywhere
AVAILABLE ANYWHERE
Accellos One Track utilizes a series of GPS/Java enabled mobile phones to provide "anywhere" functionality, like:
Real time driver communication
Real time location updates
Automated driver checks
Detailed schedule updates
Interactive text messagingScheduled activity updates
REAL TIME VISIBILITY
Track provides access to the latest information about your deliveries, equipment and drivers through an intuitive browser-based user interface:

Track equipment on map
Visual alerts
Rolling ETAs
Bread crumb trails
Historic driver routes
Out-of-route miles
POWERFUL REPORTING
Using a flexible reporting system, Track provides reports, like:
Mileage by State
Current location
Activity and event
Speeding/MPH
Traveled mileage
Number/duration of stops