Manage Your Dock Door Appointments and Streamline Your Reservation Process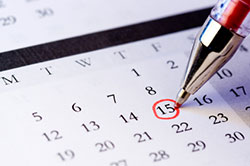 Are you using a whiteboard, clipboard or spreadsheet to schedule your appointments? The average company spends 20 minutes scheduling an inbound delivery or an outbound pickup appointment. If you're running multiple doors in your facility that adds up to a lot of time that you could be spending on something much more productive.
Companies invest in solutions like demand planning, warehouse management and transportation management to help them optimize their supply chain, yet very little attention is paid to the pickup and delivery processes. Studies show that carriers spend more time waiting for access to a dock door than they actually spend in loading or unloading their trailers.
Accellos One Schedule provides a set of tools to help you cost effectively move from a manual appointment system to an automated one. Its web-centric design allows you to quickly and easily book an appointment based around customizable business rules for each facility and door. And, then share the schedule with both internal users and external partners and customers.
Available both as a fully integrated component of the overall Accellos One family of supply chain products or as a standalone solution, Accellos One Schedule can allow your users to optimize inbound and outbound traffic for increased speed and efficiency.
IMPROVE EFFICIENCY
Save labor by centralizing your scheduling function and making it visible across your extended enterprise
IMPROVE THROUGHPUT
Minimize congestion on the dock by consistently applying scheduling rules
INCREASE ASSET UTILIZATION
Reduce wait time for both inbound and outbound drivers
BENCHMARK WITH KPIs
Measure your carriers, suppliers and workforce against company goals
ACCESS TO HISTORICAL DATA
Analyze historical trends to predict facility and workforce requirements
IMPROVE ACCESS
Get visibility from any browser, anywhere
AVAILABLE ANYWHERE
Schedule's browser-based design makes it simple to use regardless of location. We've taken a page from Microsoft Office and made it very familiar and intuitive to learn how to build:
Facility and door profiles
Scheduling rules
Current/future appointments
POWERFUL RULES ENGINE
Schedule allows you to define key rules:
Facility hours of operation
Door hours of operation
Door specialization
Min/max appointment
Average time per load type
SEAMLESS INTEGRATION
Using a flexible integration system, Schedule will work with:
Leading dispatch systems
ERP/WMS/TMS systems