Product Features
Graphically manage and schedule your resources from a multiple weekly
or monthly view. Users are color-coded for easy schedule viewing.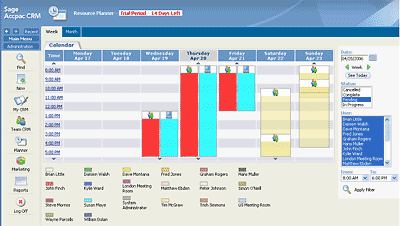 Easily view all scheduled activity in a weekly view.
Monthly View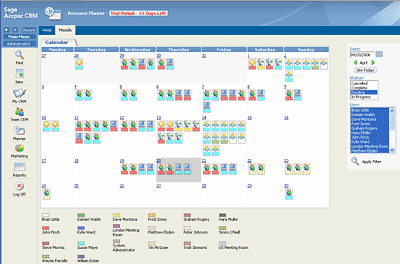 Easily view all scheduled activity in a monthly view.
More Features:
Drag and drop appointments or any scheduled activities quickly and
easily.
View all activity types, phone calls, meetings, demonstrations even
custom types defined within your CRM system.
Create your own icons to indicate custom activity, allowing for quick
visual recognition of activities.
Drag over empty areas within the calendar to schedule new activities
and appointments using the standard SageCRM MME activity schedule.
Customizable Tool tip style information on activities. See the key
data fields you want just by moving the mouse over an activity.

Filter your activities by multiple fields to allow you to quickly
and easily find information.
Assign your own colors to individual users, for easy grouping and
sorting.
Seamless integration with MME. No external applications,
Monthly view and weekly view support, along with 5 day working or
7 day week views.
Easy point and click installation on your web server.
No local client installation or configuration.
Multiple user calendar, view up to as many users' calendars
as you require.
For more information please e-mail us at info@axisglobalpartners.com.