Sage
Accpac ERP
Q – Can we set an optional field to be required without selecting a Default Value?
A – In version 5.3 of Sage Accpac ERP, you had to specify a default value for any optional fields that were required in transaction forms or records. This is no longer the case in Sage Accpac ERP v5.4.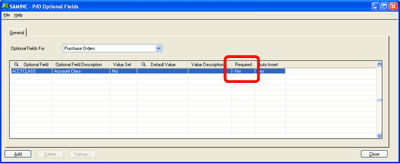 User can select to make an optional field required in the modules Optional Field setup window. When adding an optional field, change the Required Field to "Yes". You no longer have to select a Default Value
Note, however, that making the optional field required without a default value, you must now make an entry for all required fields before you can save records or post transactions.
Q – Can we setup Accpac to automatically post General Ledger and Accounts Payable
batches created from the Purchase Order module?
A – To setup Accpac to automatically post Purchase Order transactions in the General Ledger, open the G/L Integration window under the Setup folder in Purchase Orders, select "Creating and Posting a New Batch" from the drop down list for the "Create G/L Transactions by" setting.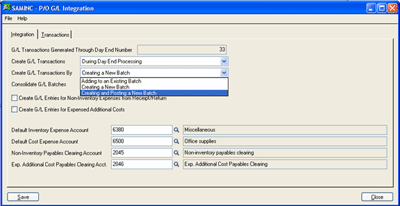 To setup Accpac to automatically post Purchase Order transactions in Accounts Payable, open the Options window under the Setup folder in Purchase Orders. On the Processing tab, select the "During Day End Processing" from the drop down list for the "Post A/P Batches" setting.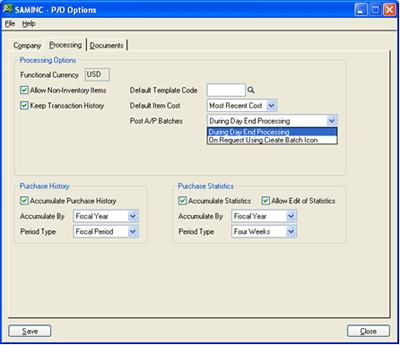 Sage Accpac
CRM
Q – I am unable to attach multiple files when sending outbound emails. When I try to attach a second file to an email CRM replaces the first attachment with the second attachment.
A – This behavior is typically caused by having the Default E-mail template setup under My CRM -> Preferences that is conflicting with the e-mail editor.
In order to resolve this, go to My CRM -> Preferences and click Change.
Select none in Default E-Mail template field and click Save.
You should still be able to use the E-mail Template by selecting the template of your choice when composing the email.
Q – Is there a way to copy or create a backup of the Workflows?
A – There is no direct functionality to copy a workflow and create a new one in CRM. But you can make use of the Component Manager to accomplish this.
Make sure you have the latest backup of CRM database before attempting the following procedure.
Logonto CRM and go to Administration -> Advanced Customization ->Workflow.
Selectthe Workflow that you want to backup or Copy from andclick ChangeWorkflow edit button.
Renamethe Workflow to any name of your choice but different than the originalname and click Save.
Now, click the PreviewList go button on the right, which should give you the Script Previewof Workflow.
Selectall the contents of script and copy it to a .TXT file.
Rename the.TXT file to CopyWorkflow.es file.
Create a new folder called CopyWorkflowunder a temporary folder e.g. C:\TEMP\CopyWorkflow.
Copythe CopyWorkflow.es created in step 5 to C:\Temp\CopyWorkflow folder
Createanother text file with the following two lines of text, Description= Directory=CopyWorkflow and save it.
Renamethe file to CopyWorkflow.ecf and copy it to C:\TEMP\CopyWorkflow folder and CopyWorkflow.ecfare at the same level i.e. under C:\TEMP folder.
Now, select the both the items i.e. CopyWorkflowfolder and file, Right ClickàAdd to Zip. (See attached document for clarification)
Namethe archive or zip file CopyWorkflow.zip and click Add (seeattached) Now, you have the zip file ready to be installed as a componentwhich will create the original workflow again.
Goto Administration -> Customization -> Component Manager, under Add Componentpanel, click the Browse to locate and select the CopyWorkflow.zipthat we have created above.
ClickUpload new component optionafter specifying the file.
Youwill see CopyWorkflow component appear under Available Components box.
Selectthe component in the Available Componentsbox and click Install Componentbutton on the right.
Youmay receive a message No parameter information found in 'CopyWorkflow.ecf', ignore this message and click the Install Component button again.
This will install the component and the originalworkflow will be created. You can confirm that by going to Administration àAdvanced Customization àWorkflows.
Sage Pro ERP
Q – How can I identify what tables get updated during a transaction?
A –
Since the release of Sage Pro ERP 7.1 Build 3001.10, the PROTRANSACTIONPAUSE utility was added to the product. It allows the ability to identify which tables are updated throughout a particular transaction.
This utility must first be activated by setting the following environmental variables on the Microsoft Windows workstation:
Environmental Variables Required
| | |
| --- | --- |
| Variable Name | Variable Value |
| SBTDUTIL | ON |
| PROTRANSACTIONPAUSE | ON |
Once these environmental variables are set on the workstation, logon to Sage Pro. When saving any transactions in any module, the program will pause before and after each table is updated. This helps to identify which tables are being accessed at any particular point of a transaction. This utility may be turned off by setting one or both of the environmental variables "OFF."
The same transaction may update different tables depending on the system settings. For example a purchase order receipt would update the ICCOST table if using a FIFO or LIFO costing system. However, it would not update ICCOST if using a Weighted Average costing system. Other factors, such as serial numbers, also affect which tables are updated. This utility only pauses on those tables that are specifically updated by the transaction in progress.
Important
This utility is not meant for the Job Cost or any Manufacturing module. It may be use in any module that supports Multiple-Document Interface (MDI) screens.
Q – How do I add additional User Licenses?
A –
The number of user licenses is updated in System Manager; however, this does not update the number of users allowed into the installation. This may occur even if a message appears indicating that it did. A corrupt user license file may be indicated by the following message:
Check User License
This also results in a reduction of the number of users allowed. This solution may also be used to restore user licenses to previously assigned limits.
To add additional users to Sage Pro, please follow the steps below:
All users must be out logged of Sage Pro.
Login as a Sage Pro administrator.
Open System Manager.
Under the Maintain, point to Setup and click User License.
Type in the Activation Code. Important: This is different from the Activation Code used during installation.
Click OK.
The following message appears:

The maximum number of users allowed has been updated.

Click OK.

Exit Sage Pro and login again. This step is mandatory in order to correctly update the number of user licenses.
Q – What are the New Modules and Options Available in Sage Pro ERP 7.4?
A –
Option or Module

100 Edition

200 Edition

Comments

Dashboard

No

Yes

Included as enhancement for System Manager
LAN or Remote version

RMA

Yes

Yes

Full Module, with Order Entry (OE)

AP EFT

Yes

Yes

Add on module, option

Routing

No

Yes

Included with OE and Purchase Orders (PO)
Works with OE, PO and RMA

RFQ

No

Yes

Option, works with PO
Back to Top^