Overview
Shipment processing and its related activities are an important but often overlooked function in supply chain management. Unfortunately, too many organizations are losing money and compromising customer service levels by not implementing solutions to improve this function. Technologies exist today that are easy to implement and integrate which provide quantifiable, on-going benefits.
This article will describe what "best in class" organizations are doing to automate their shipping function and the benefits they are deriving from their investments in this area. We will also look at the key areas to consider in selecting a shipping management technology.
The Shipping Cycle – Integrated Automation
The schematic below highlights a well integrated and highly functional shipping management system – each function is described on the right. The term "the application" refers generically to the installed shipping management system.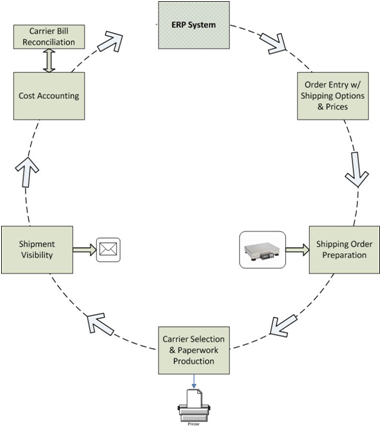 Orders are entered into the organization's ERP system and at the time of entry, their shipping options (carriers & services) and corresponding prices are conveniently available to the operator. The preferred service and carrier are identified in the order if applicable.
Once the order is ready to be shipped, it is retrieved through the application and order data pertinent to the shipment is automatically loaded. The shipper then defines the final shipment parameters including package size, weights (using an attached weigh scale) & special services.
Based on the shipment parameters the application will present the shipper with their shipping options including the days in transit and the price of the shipment – highlighting the preferred service & carrier from the order. The service and carrier is confirmed and all the necessary paperwork (i.e. compliant shipping labels or waybills and customs invoice docs for international shipments) is automatically printed.
Once committed, the shipment is visible to any authorized user (internal or external to the organization) allowing it to be tracked up until delivery. E-Mail notifications are sent to recipients notifying them of impending shipments and to specified individuals confirming that a shipment has been delivered.
As a final step, pertinent shipment information is automatically written back to the ERP system including carrier, service level, tracking numbers, additional reference information and shipment cost. Carrier invoices are electronically verified and reconciled in preparation for payment.
Benefits
By automating the shipping function and its related activities as shown the following benefits may be realized.
Reduction in Direct Shipping Costs
Smart Carrier Selection – For each shipment or order processed a cost comparison between available carriers and services is displayed so that the most cost effective carrier can be chosen based on the defined shipment parameters. Savings of between 7 and 15% on the overall shipping spend can be achieved.
Improved Carrier Negotiations – By electronically capturing every shipment processed it enables you to have a complete picture of your shipping patterns. This information is critical in negotiations with carriers and can help reduce your direct shipping costs by as much as 10%.
Improve Efficiencies

Automatic Shipping Labels & Waybills – By quickly retrieving order information and specifying the shipment parameters and automatically producing a "carrier ready" shipping label or waybill the time consuming and error prone method of preparing paperwork is eliminated – shipment preparation time can be reduced by as much as 75%.
Integrated Tracking & Automated Status Updates – By quickly being able to retrieve shipments (by any number of references) with their current status and access to detailed carrier tracking information efficiencies will be gained in shipment follow up.
Carrier Bill Reconciliation – By reconciling carrier invoices against a record of what was shipped and corresponding contract costs, bill payment can be verified and prepared without the time consuming procedure of manually auditing each invoice and record.
Universal Accessibility – The application and information is available to any authorized user allowing for casual, non production shipments to be placed and inquiry and reporting to be executed from any workstation.

Improve Customer Service

Automated e-Mail Notices – Automatic advanced shipment notifications and delivery confirmations via e-mail allows for better shipment follow up and communication.
On-Line Quoting – Having comparative quotes by carrier and service quickly available allows for a fast and easy way to let customers know precisely what their shipping options and charges will be.
Quick Status Lookup – By having current status, detailed tracking and POD information immediately available quick response to customer inquiries can be made. Alternatively this information can be extended to your customers giving them access to the same convenient tools without occupying your staff's time.
Each organization will derive varying benefit depending on their operations. Organizations need to develop a baseline of current methods and associated costs before looking for a solution that has the features delivering the most value. After implementation the return on investment can be simply quantified based on the new methodologies / costs vs. the original baseline established (please refer to our paper entitled "Establishing Baselines in Shipping Automation" for more information on this subject).
Shipping Management Software Considerations
When selecting shipping automation software the following general considerations should be taken into account regarding the application's functionality and return on investment.
Note: The list does not include a review of the considerations that should be given regarding the vendor (reputation, time in business etc.) as it is expected that each organization does this as a matter of business and that they have their own evaluation criteria.
Integration into your ERP (Accounting) System
Ensure that the solution can seamlessly connect into your ERP system to allow for the quick conversion of orders into shipments and the write back of key shipping information to the order. Further, the application should allow the order entry person to quickly retrieve shipping options and prices at the time of order entry.
Multi-Carrier Compliance
Ensure that the solution is compliant with all major shipping carriers (couriers and transport companies). Requirements change and you may need to go to a different carrier in the future. By choosing a solution that has a broad compliance base ensures your solution will work in the future no matter which carriers you choose to do business with.
Speed of Processing Shipments
In higher volume shipping situations the physical preparation of each shipment becomes critical and an interface that is intuitive and fast becomes imperative. Weigh scale integration and paperwork that will print quickly once the shipment is committed are both time savers. Try the application in a test with one or more of your shippers to see how easily they can "get up to speed" and how long a typical shipment will take. This information will be insightful and helpful in estimating your return on investment.
Universal Access & Visibility
Shipment information is important to many people in an organization – ensure that the application allows for easy, ubiquitous access to those who need it. With the introduction of web based shipping technologies this is now becoming as easy as an inquiry through a browser to get the latest status and carrier tracking information. E-Mail notifications should be automatic and available for recipient notification, delivery confirmation and exception (late shipments) alerts.
Return on Investment & Total Cost of Ownership
Work your business case based on the key quantitative benefits identified (see "Benefits") and ensuring you keep in mind the total cost of ownership in the application solution. Estimates put the capital cost of software at about ½ the full cost of owning and maintaining a multi-user software system. Be aware of upgrade, support and other maintenance fees that may hit you after the purchase is made. Consider SAAS (software as a service) solutions that charge based on usage per month and hosted by the vendor. This alternative lowers your upfront costs and enables the application to be piloted before making a full commitment. It will also allow for a quicker pay back on your investment.
Written By:
Michael Trueman
Executive VP & Co-Founder,
Go-Logix Technologies Inc.
mtrueman@go-logix.com
www.go-logix.com