What is BPM and how will it benefit my organization?
BPM is both a business and software tool. As a business tool, it calls for organizations to document, analyze and measure their business activities not in terms of discrete functions such as marketing, sales, manufacturing and customer service but in terms of end-to-end business processes that cross functional boundaries. In that sense, BPM runs counter to both traditional organizational structure and enterprise application software, both of which focus on integration within each functional unit.
As a software tool, BPM takes the form of an integrated suite of components that first model the end-to-end process from a business perspective and then create an automated implementation of the flow described by the model. Once the automated process is deployed, BPM components monitor business performance based on actual process data. Instead of treating business modeling, IT implementation and performance management as independent endeavors, BPM unites them with an integrated set of tools and an overarching management philosophy of continual incremental improvement.
Types of Workflow
Workflow and BPM are constantly confused; they are not the same. Part of this is because the term workflow itself has many meanings. Four distinct workflow permutations resonate throughout software:
1. Internal hardwired workflow within applications, including ERP, CRM, and Content Management. Workflow is part of the code and is not an abstracted layer made available to other systems.
2. Traditional workflow packages that automate form-centric activities are frequently used for claims processing in the medical and insurance industries. These applications were not strong transactionally and thus, provided the human, but not the end-to-end, workflow.
3. Integration workflow technologies that were a manifest of the need to provide flow logic when moving information to and from applications. These systems were strong transitionally but did not support human intervention well and thus did not provide a complete workflow solution.
4. BPM workflow, which cuts across all prior workflow technologies to provide enterprise wide workflow throughout the entire process-lifecycle. BPM workflow supersedes all prior workflow technologies with new levels of ease-of-use, configurability, and interoperability, and does so with new levels of efficiency and speed. BPM workflow can augment or replace in-application embedded workflow contained in ERP, CRM, Document, or Content Management systems. Doing so, brings ease of re-configurability, improvement, and direct deployment without IT involvement to these systems at the specific business function and the application as a whole. Automating in-application processes with BPM workflow also lays the foundation to facilitate cross-application business process integration. Collectively, the agility gain at each specific business functional area underpins the overall enterprise agility and competitiveness through the overall ecosystem. Web service standards that enable standards-based system connectivity are a key factor in enabling BPM workflow.
Who can benefit?
A. Applicable Industry Sectors
Financial Services
Manufacturing
Utilities
Telecommunications
Government
Insurance
Legal
Healthcare
General Business Process Management
B. Applicable Application Categories
Loan Servicing
Mortgage Processing
Content Management
Document Management
Order Management
Tax Management
Contract Management
Claim Management
Case Management
Regulatory Compliance Management
Lead Tracking Management
Asset and Facility Management
Accounts Receivable & Payable
Invoice Processing Management
Service Process Management
Help Desk & Customer Service
Procurement Review and Approval
Customer Relationship Management
Enhanced Workflow:
NowFORMS workflow helps your Accpac customer's to automate repetitive business processes. Leveraging Microsoft's Visio, users simply design workflows (the routing and movement of work/documents) using the drag and draw icons just like any other Visio drawing.
Leveraging custom Visio "stencils", workflow allows users to define, model, simulate, and deploy workflow templates directly from the same Visio interface.
Documents flow through defined workflow steps, and are "pushed" to a workflow user's inbox (In-boxes can be assigned to an individual, group or based on role). Users can determine within each step the required action and exposed document properties.
The software also provides built-in activities (which allow uses to delegate tasks such as approve, reject, route, notify, etc.) and also tracks the progress of their workflow with time-based reminders, escalation and management notification via e-mail.
The system can trigger a workflow based on actions (such a document submission) within the document library or route content between individual users and groups. Further, InfoPath (Microsoft's e-form package- included in Office 2003 Professional) integration allows users to associate a process map with a specific InfoPath form. Users can even expose views within the form at different steps within the workflow allowing the user to only view and interact with specific data.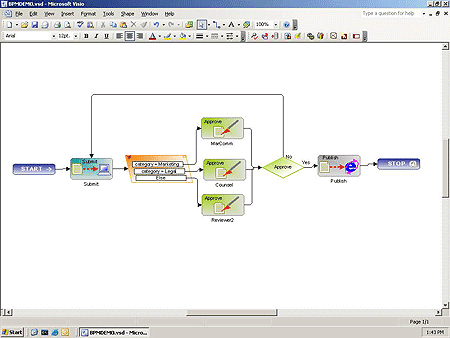 Features
Authors can cut, copy, paste, modify, store, & version workflow maps.
Supports "live-updates" which require no file import/export for process workflow template changes.
Track the progress of workflow with time-based reminders and management notification via e-mail.
Rich set of class and web services APIs for creating re-usable "work parts", custom user interfaces, and custom integrations.
Provides extensions for Visual Studio .NET that allow developers to quickly extend its out-of-the-box capabilities.
Enhanced ViewDocs functionality
Need to quickly search for a vendor invoice that you just scanned? Go to Sage Accpac, bring up the invoice record and click the ViewDocs button; your invoice number and vendor code are automatically copied from your record into the correct fields in NowFORMS. Best of all you now have a direct link between Sage Accpac and the documents stored in NowFORMS.
Single click search from any screen in Sage Accpac ERP.
Relate documents in NowFORMS with data in Sage Accpac ERP.
For more information, please contact us at info@axisglobalpartners.com.