Businesses today face unrelenting data growth. IT staffs are struggling to ensure data availability under tight fiscal constraints. The unreliability and intensive management of tape-based backup has forced administrators to create manual, error-prone processes in order to protect their data.
Online backup answers these challenges by leveraging existing servers and networks to securely and efficiently protect servers, desktops, and even laptops against data loss. The key is to immediately move data backups securely off-site away from any potential site disaster. Greater security and reliability, and easier administration, make online backup the right choice for small and mid-sized businesses (SMBs) that are serious about protecting their business-critical data.
Heightened awareness around business continuity and regulatory compliance has caused businesses to increase spending on their data protection activities. Over 75% of companies are looking to change their backup approach.  What' s behind the growing trend to online services?
IT Challenges: It' s ugly out there
In order to understand the cost advantages of online backup, it is important to recognize the challenges that SMBs face in protecting their business-critical data.
Today' s Data Protection Challenges
| | |
| --- | --- |
| Problem | Cause |
| Shrinking backup windows | Proliferation of data-intensive, high-availability applications such as Web-based services (email, order processing) and other applications now require around-the-clock availability. |
| Explosive data growth | It is reality, not a trend. The culprits include personal systems, data-intensive applications (e-business, CRM, personalization), new data sources (email, graphics, photo, video), retention/retrieval requirements, and business growth, all adding cost, complexity and risk. |
| Lack of central control over distributed systems | IT staff managing off-site backups frequently must trust untrained co-workers to conduct backup activities such as swapping out and replacing tape media. Managing redundant hardware and software components in multiple offices also adds to the complexity. |
| External forces | Regulatory, litigation, and reporting demands are forcing companies to produce more data and retain it longer.  In fact, companies spent an estimated $5.5 billion to comply with Sarbanes-Oxley alone in 2004. |
| Increasing rate of recovery failure | Business continuity is jeopardized by viruses, accidental data deletion, and data corruption. As systems grow more complex, the inability to adequately recover an organization' s business-critical data increases. |
| Human error | Accidentally deleting an email or crashing a server from overfilling a disk drive is among the human errors that represent some 32 percent of application downtime and data loss. |
| Greater awareness of disaster risk | Acts of domestic terrorism, high profile thefts, and 2005′ s most destructive hurricane season on record have made the risk of data loss / downtime more vivid than ever before. |
Now is the time for online backup – Technology should enable business not constrain it.
Market conditions and technology maturation have contributed to the traction online backup and recovery has made over the past few years.
Automation provides an added security layer – Using industry-standard encryption algorithms has made data transport over private or public networks a more secure way to transport backups than manually managing tapes. Having backups centralized in a secure facility further improves the security, reliability, and availability of data for retrieval or recovery.
Increased reliability drives better processes, lowers cost – Efficient processes make online backup a more reliable choice than tape. Scanning and storing only block level changes, for example, minimizes the volume and exposure of data traveling across the network. In addition, the data blocks are compressed, encrypted and then copied to remote disk drives. Companies can keep data longer, spend less time on backup management, and reduce costs for storage, backup management, media, and data retrieval.
Online backups facilitate business continuity – If an employee accidentally deletes a file or folder, the data can be retrieved online quickly and simply – around the clock.  If a company is required to produce a string of emails pertaining to a lawsuit and has an online backup, it can avoid contempt of court charges.  Imagine the cost and productivity savings.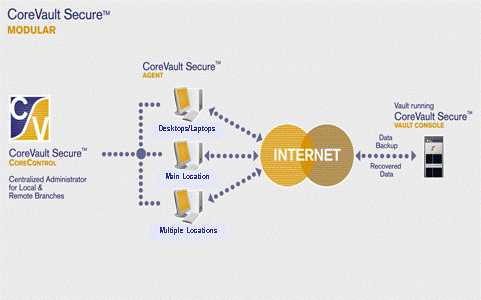 What to look for —
Automated and unattended backups with the ability to backup open files and open databases
Ability to centrally manage the backup and restore process from one or more locations
Control of files and directories to be backed up, with file-filtering capabilities
Secure, Tier-1 facility
Spontaneous file restores 24x7x365 via end user or central administrator control
No special hardware requirements or changes to your network
Ability to restore data either over the network or via a dedicated storage device
Customizable data retention schedules
Data encryption while data is stored on the storage array and during transmission over private or public networks
Changed data is compressed & encrypted
Automatic restart and resume capabilities for handling a variety of network conditions
Automatic notification of exceptions and problems encountered
Detailed usage reporting capabilities
Conclusion
IT staffs face more challenges than ever before to keep costs in check as they service employees and customers who are increasingly dependent on data access and intolerant of downtime. Even the U.S. Department of Homeland Security is urging businesses to protect themselves with a Disaster Backup/Recovery plan.  A convergence of regulatory and economic drivers, as well as technical innovations has led thousands of SMBs to implement online backup.
CoreVault online backup provides SMBs with the solution that best fits their needs. By controlling the growth of data being backed up, CoreVault customers quickly realize significant cost savings. They are also better able to support the backup and restores of remote offices and meet applicable regulatory, legal, and audit requirements.
The IT functions in your business are complicated enough. For small and mid-sized businesses, adding data protection expertise as a core competency simply does not make fiscal sense. Turning that function over to the leader  in online backup and recovery—CoreVault—will save you time, money and aggravation. CoreVault has the right online backup solution for companies like yours that are serious about protecting their business-critical data. For more information on CoreVault solutions, visit us at AXIS or call Manny Buigas at 305-418-9440.