PrintKey 2000
PrintKey is a screen capture program that can capture the screen or any
part of it with the press of the Print Screen key (or any other key you
configure).
You can adjust the captured picture's brightness, contrast, color balance,
size, color invert, or convert to grayscale or black and white.
Pictures can be edited, using the built-in image editors and printed
or saved in multiple formats such as JPG, JPEG, BMP, PNG, GIF, TIF and
PCX. You can also insert text and free hand draw on the picture.
You can capture the full screen or just the active window, the client
area, or any rectangular or circular area with or without the cursor.
You can preview the picture, add the date, user info, and any text you
choose before printing.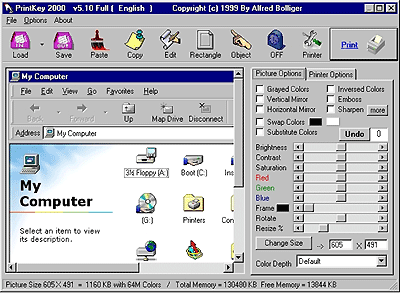 You can download a freeware unsupported version from here: http://home.pb.net/~kclarke/pub/printkey510ef.zip
In addition to the freeware version, there is a supported version that
can be purchased at http://www.warecentral.com/
Here is a chart comparing the features between PrintKey 2000 and PrintKey
Pro:
| | | |
| --- | --- | --- |
| File Format Load/Save | PrintKey2000 | PrintKey-Pro |
| GIF | X | X |
| JPG, JPEG | X | X |
| BMP | X | X |
| WMF, EMF | X | X |
| ICO (Load Only) | X | X |
| PNG | – | X |
| TIF, TIFF | – | X |
| PCX | – | X |
| CUR (Load Only) | – | X |
| Actions | | |
| Get Desktop | X | X |
| Get Active Window | X | X |
| Get Rectangular Area | X | X |
| Get Circular Area | – | X |
| Reposition Rectangular Area | – | X |
| Reposition Circular Area | – | X |
| Get Pull Down Menu's | – | X |
| MultiMonitor Support | X | X |
| Change View | – | X |
| Print Preview | – | X |
| Change Contrast | X | X |
| Change Brightness | X | X |
| Change Saturation | X | X |
| Change RGB | X | X |
| Mirror Image | X | X |
| Free Hand Draw | – | X |
| Insert Text | – | X |
| Invert Colors | X | X |
| Substitute Colors | X | X |
| Swap Colors | X | – |
| Sharpen Image | X | X |
| Emboss Image | X | X |
| Grayed Colors | X | X |
| Change Color Depth | X | X |
| Add Frame | X | X |
| Change Size | X | X |
| Change Size Proportional | – | X |
| Resize | X | X |
| Rotate | X | X |
| Blur | – | X |
| Change HSV | – | X |
| Change HSL | – | X |
| User Filters | – | X |
| Bump Map | – | X |
| Lens | – | X |
| Wave | – | X |
| Automatic Save | X | X |
| Automatic Save with Date/Time | – | X |
| Send E-mail | – | X |
| Clipboard | X | X |
| Undo | X | X |