By Dr.Nancy Rauseo
Although many consulting and research companies caution that a high percentage of the CRM projects don't produce measurable business benefits, the reasons are associated with wrong approaches to implementation. When using the right approach, companies can experience phenomenal results. IDC, a research consulting firm, conducted a study in 2004 on thirty-three companies that effectively implemented CRM software applications. The return on investment (ROI) results ranged from 51% to 500% for over half of the companies. Of the companies that participated in this study, 58% experienced a payback in one year or less.
IDC also found that technology-related savings account for only 7% of the average return, while benefits accrued from increased productivity and business process enhancements account for 51% and 42% of the return. The rest of the returns originate from increased revenues and increased competitive differentiation. So can your company afford not to implement CRM? What will it cost your company if you don't invest in a CRM strategy?
This article is the first of a series of articles focusing on the financial impact of CRM on an organization. This article centers on the benefits that a company can attain when implementing CRM solutions using best business practices. Before we discuss the benefits, let's review what these practices consist of:
1. a customer-centric strategy and a plan;
2. customer-focused business processes;
3. a relationship marketing strategy;
4. the right people, both internal employees and external partners; and
5. the right fit between technology solutions and your processes
While the overall success of a CRM project tends to focus on the successful implementation of a software application, this is only a portion of the 'success' equation. The success relates to the company's ability in managing a complex process of change within the company. Planning, remaining flexible while managing the evolving business processes, gaining support and facilitation from key people and employees and practicing patience are key elements to success.
The Bottom-Line Benefits of CRM
The impetus for CRM began with studies conducted by Frederick Reichheld, considered as the Customer Loyalty Guru. His studies showed that there are dramatic increases in profits that result from small, incremental increases in customer retention. Reichheld showed that a 5% increase in customer retention had impacts as high as 95% on the net present value delivered by customers. Other studies by McKinsey & Company have concluded that repeat customers generate over twice as much income as new customers.
A key ingredient to attaining CRM benefits is more focus on customer retention, rather too much on new customer acquisitions. After all, it costs six times more to sell to a new customer than to sell to an existing one. The chances of selling a product to a new customer are 15%, whereas the chances of selling a product to an existing customer are 50%. The primary emphasis of a CRM strategy is to look at ways to retain valuable customers in an effort to gain their loyalty.
A core CRM philosophy is that a customer should be viewed not as a set of independent transactions but as a lifetime income stream throughout the customer's lifetime relationship with the company. Customer lifetime value is being used by companies to measure the return on customer to the company. It originates from financial concepts and models such as interest rate (opportunity cost) and net present value (NPV) of the future profits. The shift is from thinking of product profitability to customer profitability.
The diagram below is a visual representation of the concept behind Reichheld's research and customer lifetime value..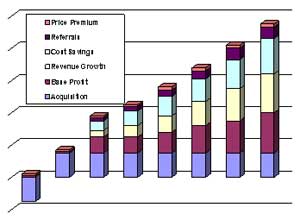 The horizontal axis represents the years of the relationship with the customer. As we've mentioned before, it's very expensive to acquire the customer. It's an investment so there are no profits to the company the first year. As the customer remains with the company, profits begin to increase each year. The longer the customer is with the company, the higher the returns on investment. These income streams result from:
– profits derived from increased purchases (increased revenues);
– profits from cost savings (improved efficiencies/reduced operating costs);
– profits from referrals to other customers; and
– profits from price premium (charging a premium for the customer's confidence in the business).
In our next article, we will address the CRM benefits associated with increased revenues. We will also highlight a few best practices related to attaining higher levels of increased revenues.
Dr. Nancy Rauseo is on the faculty of Florida International University's College of Business Administration where she teaches marketing. Nancy holds a Bachelor of Science in Industrial Engineering from Purdue University and an M.B.A and Ph.D. from Nova Southeastern University. She is also IBM-certified as an e-Business Solutions Advisor. Prior to her teaching career, she held various senior management positions for over 20 years in the areas of sales, marketing and technology implementation. Dr. Rauseo is also Instructor for FIU's Professional Certification Program in CRM. For more information, visit: http://cba.fiu.edu/web/ope/crm.htm