Audit Logger for ACCPAC provides intelligent auditing by monitoring user interactions with the system views from within the Sage
Accpac ERP environment.
Auditing Features
This solution provides auditing on view inserts, updates and deletions to be stored and later reported on. Each view can be independently customized
to suit the clients' unique auditing requirements. Audit Logger stores both before and after images of the audited fields.
Ability to set auditing as inactive per view for bulk updates or import operations.
Records authenticated Windows user name and domain from the workstation where the change occurred.
Records IP address from the workstation where the change occurred. In a thin client environment, the audited IP address is that of the client
workstation, not the server.
Design Features
Audit Logger for Sage Accpac ERP is developed in the ACCPAC SDK, which provides several important advantages over auditing products implemented
at the database level:
Totally seamless operation
Minimal performance overhead
Supports all Advantage Series databases
Operating at the application layer, Audit Logger creates the auditing profile in real-time based on knowledge of field attributes and company setup.
This provides zero-maintenance operation and durability to view changes from version upgrades and any third-party extensions to the views.
Configuration
Audit Logger provides an easy and intuitive interface displaying the supported activated modules in each company. Each view can be easily configured
and audit settings are immediately effective for all users.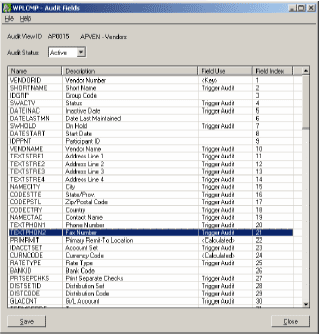 Reporting
Reports can be produced showing view changes, insertions and deletions along with all vital auditing fields including timestamp, user, windows
user, client IP address. Reporting can be filtered by view, user or date range and can include all fields selected to be audited or just fields
that have been changed in the audit.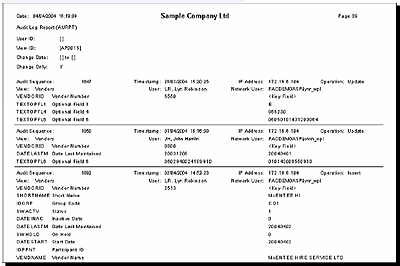 Availability & System Requirements
Available Editions:
Sage Accpac 500 ERP (Enterprise Edition)
Sage Accpac 200 ERP (Corporate Edition)
Sage Accpac 100 ERP (Small Business Edition)
Supported databases:
IBM DB2
Microsoft SQL Server
Oracle
Pervasive
Web Deployable: Yes